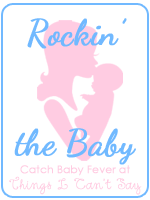 I almost didn't do it.  I almost stopped myself from linking up with so many of my blogging buddies for this one.  But then I read through a number of the posts already linked up to Shell's amazing Rockin' The Baby link up this week and decided that I had to share my babies too. How could I miss this one?  I worked long and hard to have my babies…they should join the fun too!
Riley came first.  She was truly a miracle to us, after two miscarriages and nearly three years of trying.
I look at her now and I can't believe it.  She's 4 1/2 years old!  She's sweet, energetic, talkative (make that very talkative), athletic, creative, imaginative, and beautiful beyond belief (ok, so I'm a bit biased).
Another miscarriage and 21 months later, Liam arrived.  After the third miscarriage, we worried that Riley would be on her own. There are no words to describe how truly grateful we were when Liam was born.  Riley loved him from the minute she saw him (except when he learned how to grab her stuff…that came as a shock).
2 1/2 years later, Liam is now fond of telling me that he's not actually a baby anymore.  "I'm a big guy mommy", is his favorite quote. But sometimes he lets me get away with it.  I suspect that he likes being my baby at times.  Liam is a love.  He's mellow, kind, obsessed with cars, funny (he's the joker of the family, much like his Papa), talkative (make that just as talkative as his sister), energetic, and possibly a little bit musical (only time will tell on that one, but he can belt out a number of John Mayer songs word for word without any assistance and can name many tunes in four notes).
They are my sweet little babies (no matter how big they are).
I almost didn't do it.  It was almost too difficult.  About a month ago, I had yet another miscarriage.  This time, I was almost five months pregnant.  I am told that it was bizarre.  That it made no sense.  That it was exceedingly rare and never should have happened.  I wish that made it easier.  One month ago, I said goodbye to a baby boy.  A boy I had named.  A boy I had loved.  A boy I can't get back.
When the nights are hard and it feels unfair, I have my two beautiful children to remind me that life is actually quite amazing.  I find happiness in them every day.  I find love and peace in our little family of four.  And, at the end of the day, that is more than enough.
Thank you Shell, for helping me remember that my babies will always be my babies.